I will try to post pics next time I have my 9 apart but the info in this How-to should be enough for any of you to get the job done.
I wish I would have taken pics, but since there were how-to's on here for the normal tach relocation I will just try to explain the best I can. I really didn't expect anyone to want to do it my way, but it is super easy and should only take about 30 minutes.
Tools needed: small phillips screwdriver, allen wrenches, and preferably a friend to hold stuff when your hands are full.

Edit:

And an extra friend to take pics so I can post em in here for everyone.

:joke:


parts needed: 1 roll of 1 inch 3M double sided tape (DON'T BUY THE CHEAPEST TAPE!), rubbing alcohol, a lint free cloth, and 1 bicycle tire inner tube. (6 bucks max)
1. take a towel and lay it over your speedo cluster, then mark your stock location of the bars (so you have a reference when you put it back together)
2. take your handlebars off the risers and place them ever so gently on the towel (it is kind of a balancing act, but all the wiring for the controls help keep it steady)
3. now that the bars are out of the way take out the 2 bolts that hold the tach in the stock location (the bracket the sits between your risers)
4. take the chrome housing off the tach (there are two seperate pieces and quite a few little screws)
5. now you have the tach stripped all the way down and can start the process of fitting the inner tube to the tach. I just put the 3M tape on the innertube after cleaning the inner tube and tach with alcohol and a lint free cloth so the tape has a clean surface to stick to. Place the tape around the high parts of the tach so that when you wedge it down into place it is making contact with the back side of the cowl.
6. Make sure the wiring running through the triple tree area is neat and as out of the way as you can get it.
7. have your friend pull gently but FIRMLY on the nacelle to persuade it to come forward about a half inch, then just place (or shove without rolling the innertube and tape) the tach as far down as you can (the black mounting tab on the tach should almost be flush with the triple tree)
8. reassemble and drink beer while you gripe about the fact that you wished JDMitchell would have put some pics on this how to.
Here are a couple pics of the finished product.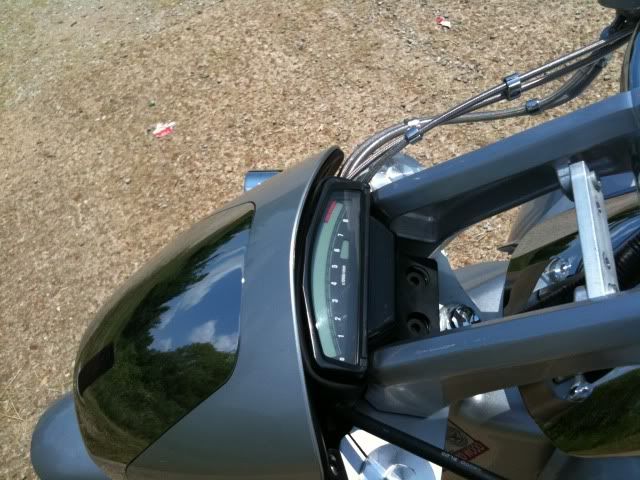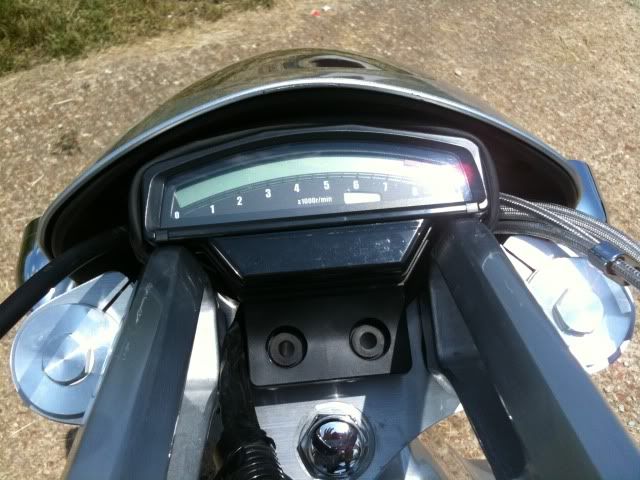 I hope this helps, I love how mine looks and I didn't even have to cut anything, so it could go back to stock if I wanted it to (but who would want to go and do something crazy like that?)