So...My Husband had to work today and my Son went to the shooting range w/ Pop Pop
. That left me at home alone and my Mom at her house alone. I was sitting on my back deck enjoying the weather when I thought "Hey I should take Mom on a ride". The only problem was my bike was in the trailer and I can't get it out. I called the Hubby at work and told him I wanted a little Mother/Daughter bonding time. He zipped home on his lunch break and got my bike out for me. (he's the best):-*
I called up my Mom who is 60 and said get your jeans on I am taking you for a ride. All she said was ok but, I dont have a helmet. No worries Mama I got it covered.
I picked her up and we went on a 3hr ride and stopped for lunch. At one point we had just merged on to 301 and I asked her is she wanted to go FAST:super:. She gave me a thumbs up and off I went. I got up to 125 but, I thought any faster would freak her out. So we stop at the light and she is laughing and whooping telling me she thought I said ,"that was fast" (about merging onto 301) She hadn't realized I said "Do you want to go Fast"? She said all she was doing was saying the Lords Prayer over and over. Needless to say we both laughed hysterically over it. I took her home and told her I had a blast. I am truly blessed to have a 60 year old Mother who is willing to still have fun in life and is up to an adventure or two. :clap2:
:bigthumbsup:
Here are a few pics had to use the phone.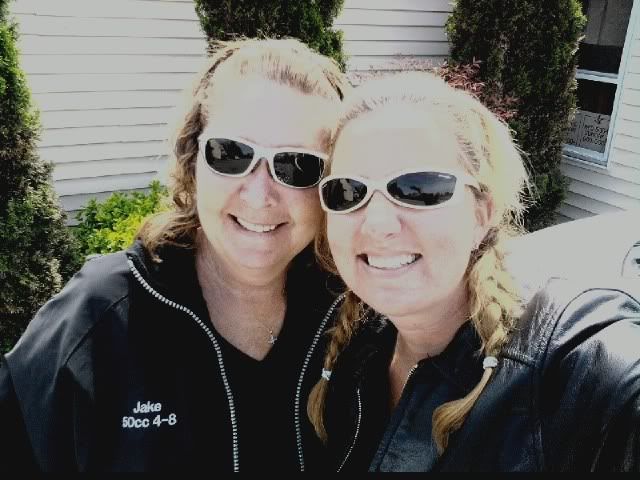 Outside Of a little dive called Twinnys
Me and My Wonderful Mama