Discussion Starter
·
#1
·
Hello Friends,
Just wanted to share some pics from this weekend.
Went up to Land O' Lakes, FL from Miami to visit my child hood friend and family... (my second home
)
Left Miami on Thursday and came back today.
Approx. 600 miles round trip.
Awesome trip, took some back roads ( a little boring since Florida is mostly flat and straight, but fun non the less )
Enjoy
Getting ready to leave...
Had to stop and take a pic of one of the many long (as far as the eye can see) roads here in South Florida...
LOVE THIS ONE!!!
Stopped by Lehigh Acres where I used to own a house (Investment).
Damn this area was screwed by the false home development of 2005 - 2007
(I know personally since I lost one thru a short sale)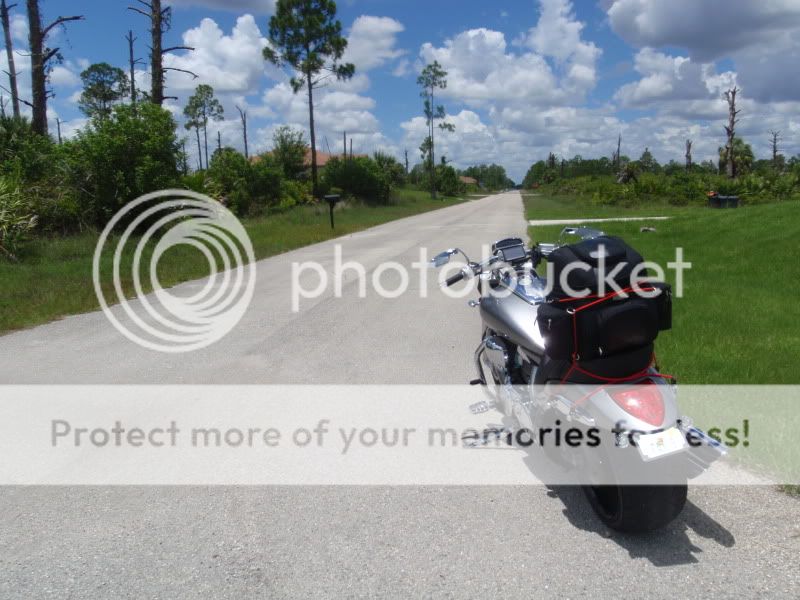 This was the house...
Valued at one point at $300k...
Was sold thru a short sale for $76k...
Gas Stop
Very Dusty Wheels...
This guy never had a chance...
Glad I had my helmet on for this trip...
Coolest McDonalds I've seen down here.
They had a motorcycle theme all over...
This is what they do with Harley's down here...
Asked my buddy to take some pics of me after I met him at his job.
Some pics with my Buddy's daughter Gabriela...
She kept saying...
"Faster uncle Alex, Faster...."
Buddy's Wifey...
Her First time on a bike, Needless to say.
She was scared sh*tless...
This was today on my way home.
Got hit with lots of rain thru out the trip back down to Miami, love my rain suit.
So that's it for now.
Sorry for the long post and all the pics but I wanted you guys to experience most of my trip on the 9.
Ride safe everyone!!!