Discussion Starter
·
#1
·
As has been the case for the last 2 years, I cant just leave things alone and continue to search for more power on the bike...

Back when Raw Performance first started making pipes I contacted Ron and asked him if he could make me a set of Head pipes and collector that I could use with my V-Rod exhaust. The request was to maintain the same general flow / lines of my exhaust, and the hope was to gain some of the power that others were seeing with the RP pipes.

Well... Ron delivered on my request.
Here is a pic of the pipe installed on the bike. Keep in mind I haven't had it chromed yet since I still had to work on tuning, which would most likely have yellowed the chrome real bad.

Hopefully I'll be able to get the chroming done within the next few weeks.
Before (For Reference)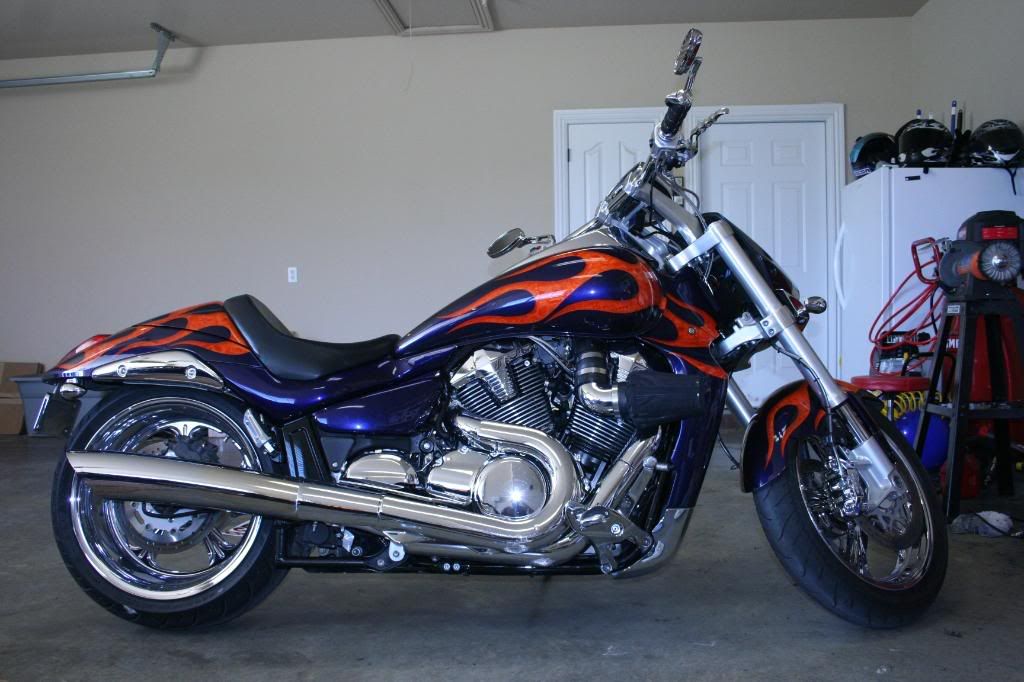 And After....
A V-Rod muffler with Raw Perfmance Head Pipes and collector

The whole reason for doing this was to try and pick up a little power, and hopefully carry the tq out a little flatter...
Well.......... Here's the dyno sheet.

This graph shows my bike Stock, My home Made V-Rod Pipe with modified Stock Head pipes, and my Vrod pipe with Raw Performance head pipes.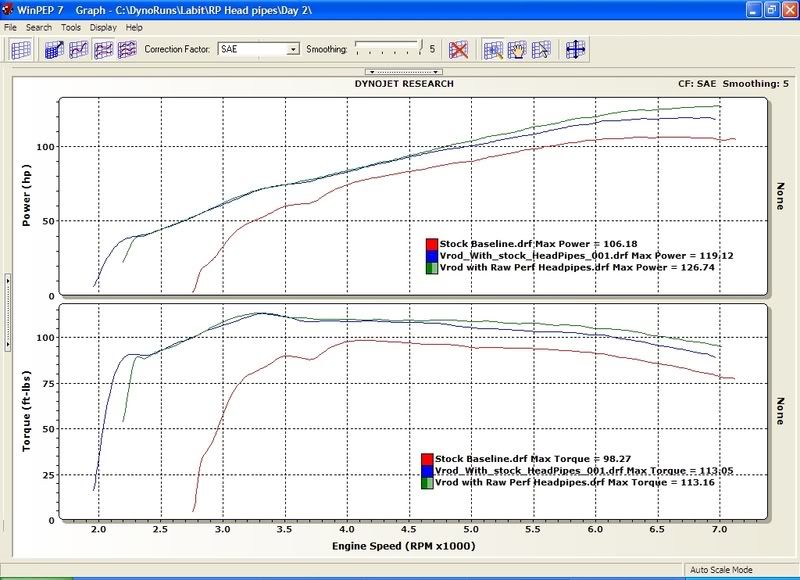 If you look closely you will see that the raw performance head pipes carried about the same Tq as I had with modified stock Head pipes... but the Tq curve is much flatter. The new head pipes actually carry 5 to 10 more ftlbs of tq from 4500 RPM's up to redline... All this improvement in the Tq profile, and the pipe picked up 7.5hp to boot....
The Tq is there when it matters now, and theres more HP on the top end. THis is a very noticeable performance increase when riding....
Now... In an effort to head off some of the "Happy Dyno Comments"...
This is the same Dyno, same time of year (a little over a week later) that we tuned Mikes bike on, and my bike makes 10 less HP, and 11Ftlbs less tq than his... So I'm thinking The Dyno isn't that happy...
The explanation is pretty simple though... Mikes Bike was 117Hp @ 107Tq stock, and with a Raw Shorty made 135Hp @ 125Tq.
Same Dyno, my bike made 106Hp @ 98Tq stock, and now with Raw Head pipes and my V-rod setup makes 126.7HP @ 113Tq.
A little simple math shows that:
With free flowing Air, Raw Pipe, and VERY DETAILED ADVANCED TUNE, Mike had a performance gain of 18hp and 18ft lbs of tq.

With free flowing Air, Raw head pipes, and VERY DETAILED ADVANCED TUNE I had a performance gain of 20Hp and 15Ftlbs of Tq.
My pipe makes a little more Power at the expense of some Tq, but basically the gains are the same on both of our bikes... The main difference is in how strong the bikes were stock. So, keep this in mind when you're looking at Dyno sheets and comparisons...
Now, I have to give a Big Thanks to Ron! Not only did he come through with a set of Head Pipes that delivered the goods, but during my first attempt at Tuning Last Saturday I found some serious issues. The bike was spiking to 15:1 AF as soon as it hit 6kRPM's, and no matter how much fuel we added to the PCIII we couldn't fatten it up.
I took the bike home that night and did a bunch of troubleshooting to figure out what was up. I eventually came to the conclusion it had to be the PCIII. This really left me against the wall... We have the 3DDIM ride coming up in 3 weeks and I will be travelling for 2 and a half of them, which doesn't leave much time for getting another PCIII in, installed, and Tuned.
I called Ron on Sunday Morning and explained what I had found, and the problem I was up against with regards to time.
He tells me not to worry about it and that he will put a PCIII on an AIRPLANE and send it to me same day. Around 9pm on Sunday I picked up my PCIII at the continental counter in the airport. This left me Monday to get it installed, and today to get it Tuned. (I go out of town tomorrow morning).
Ron catches a lot of crap for the pipes being a little slow to make / deliver, and some have called to question his integrity / honesty but I'll tell you what..... I don't know many businesses that will go to this level to help a customer in a jam, and deliver a high quality product.
Thanks Ron, I am a VERY pleased Raw Performance customer!
Now, go ahead and let the darts fly...
(Oh... and JR says Hi)