THIS SALE IS OVER
We are running a special on

two items

for one low price. You get your choice of colors (white, black, or grey) hooded sweat shirt (regular $50.) and the famous "devil shield" (regular $20.) for $50 total (+$5. for 2XL and up)
The hoodie will have the standard bike silhouette design on back in either the M109R, or M109R2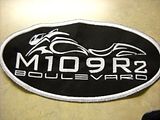 And the devil shield as a separate patch
(we will honor this price for the Busa and B-king guys also).
You can customize the hoodie with our super Suzuki S design ($10.more), one of our state designs ($20 More), or your name on the front ($5 More).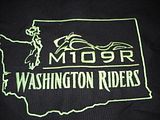 We are also going to offer the last few decals ($25regular) for $20.
Every thing is with free shipping in the USA.
Paypal has frozen my account after the low and mean group buy, so we are accepting checks or money orders on this one.

When you send you check or money order, please put your screen name in the memo field.
THIS GROUP BUY IS FOR TWO SEPERATE ITEMS. THE DEVIL SHIELD WILL NOT BE ON THE HOODIE.
THIS SALE IS OVER, please pm me for a price quote.