Discussion Starter
·
#1
·
If you have never replaced brake lines or bled brakes, please read this how-to from start to finish before even contemplating this mod. If after reading this how-to, you do not feel comfortable tackling the job yourself,
DO NOT TRY
! Take your bike and lines to a mechanic. Your brakes are probably the most important system on your bike. Unknowingly mess them up and someone will be scraping you off the pavement. If you are experienced at brake line R&R and bleeding, this mod should take about an hour. If you are anal about wrenching or have not tackled brake jobs before, this mod will take 2-4 hours.
What you will need:
Goodridge front brake line kit (#SU2877-FCH)
http://directlineparts.com/product.asp?pid=6026
2 sealed 12 oz. bottles of DOT4 brake fluid
1 small wire tie
Towel
Shop rags or paper towels
Rubber bands
Common tools (wrenches, ratchet, sockets, extensions, slip-joint pliers, Phillips screw driver)
Highly recommended tools (Mityvac brake bleeder, torque wrench with a scale that includes 20 ft. lbs.)
Pre-installation:
Sit on your bike. Grab a big handful of front brake. Note the squishiness and amount of lever travel. Try to remember this because you will better appreciate the difference when you have finished this mod.
Decide beforehand whether you are going to do 2-person brake bleeding or 1-person vacuum pump brake bleeding. I suggest purchasing or borrowing a Mityvac brake bleeder so you can do this job alone. If you spill brake fluid all over your bike, you will have only yourself to blame. :verymad: The two current basic Mityvac models are 06820 (~$30) and 07000 (~$35). I use a 10 year old model 06820. Model 07000 adds a vacuum gauge. sears.com and amazon.com sell both models for less than the previously mentioned prices. Check out
http://www.mityvac.com/pages/products_hvpk.asp
for Mityvac illustrations and detailed instructions.
Make sure you have 2
sealed
bottles of
DOT4
brake fluid. You will only need one bottle, but buy two in case of an unplanned spill. Do not assume the bottles are unopened; remove the caps and ensure the bottles are sealed as brake fluid easily absorbs moisture from the air making it ineffective. Do not mix brands. I use readily available and inexpensive Castrol GTLMA on the street and track.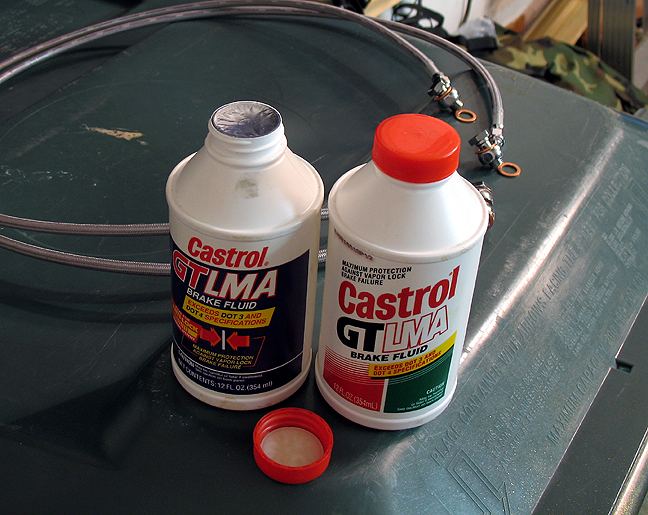 Before you remove your old front brake lines, ensure your new front brake lines are correct. You don't want to remove the old only to find out the new is incorrect. Check the part number.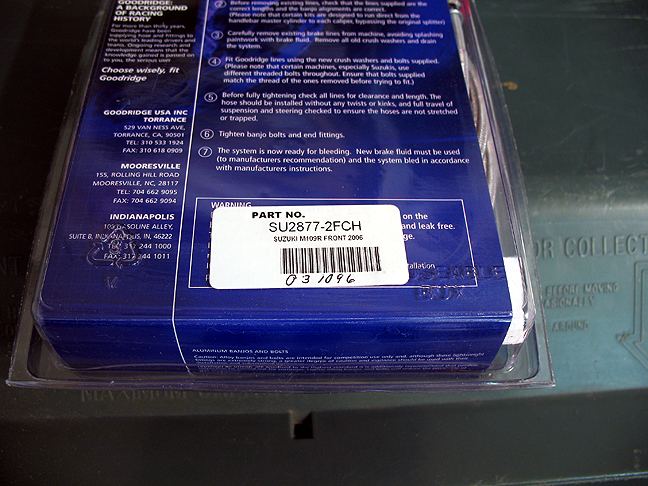 Make sure your kit includes 2 single banjo bolts, 1 double banjo bolt and 7 copper washers.
Lay the new front brake lines out on the floor and see if they match up to this photo. Pay particular attention to the shape and alignment of the fittings (hose ends), the length and left/right identification of each line, and the location of the washers. If your lines do not look the same, they probably will not fit. Leave your assembled lines in a traffic-free place until you are ready for the installation step.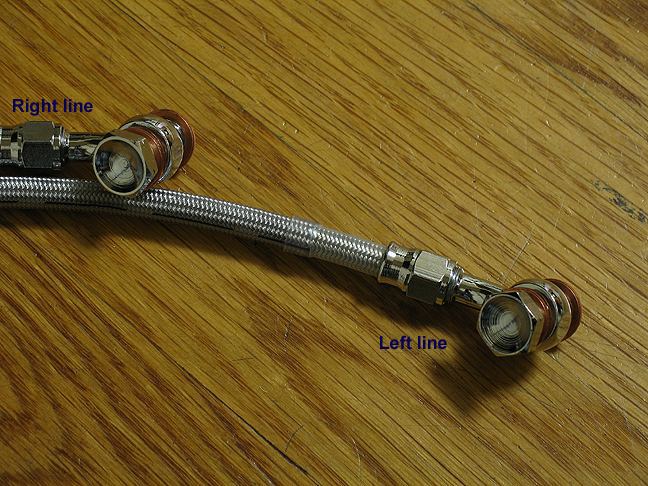 Remove the front fairing (headlight nacelle):
Leave the bike on the side stand. You will understand why later. Remove the front fairing (headlight nacelle) by removing the Allen screws and push pins (one of each on each side).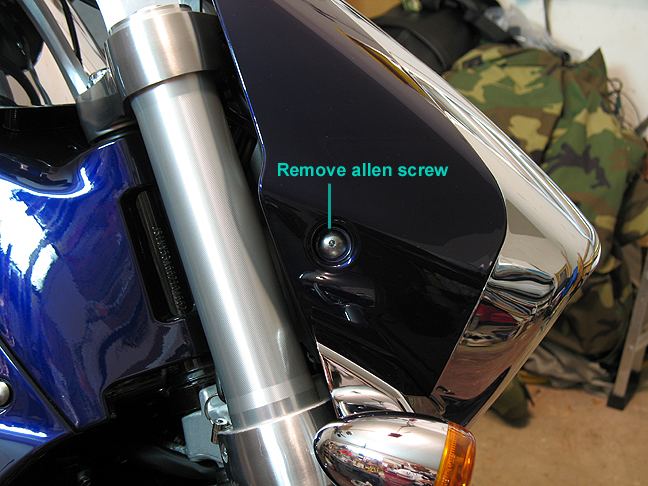 Remove the front fairing push pins by pushing the center until they "pop". I used my favorite tool, an ice pick.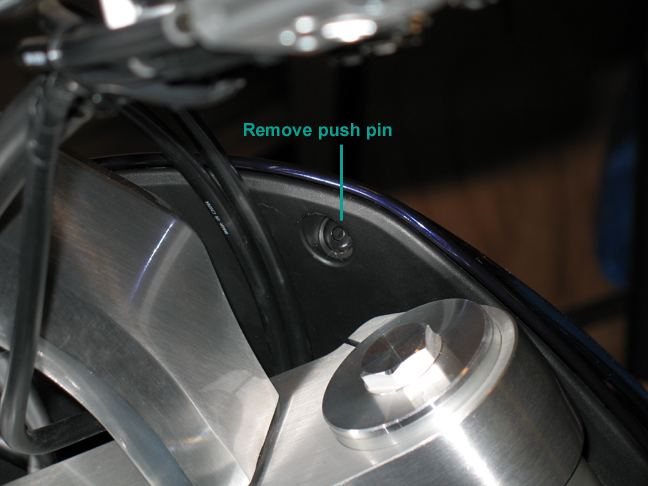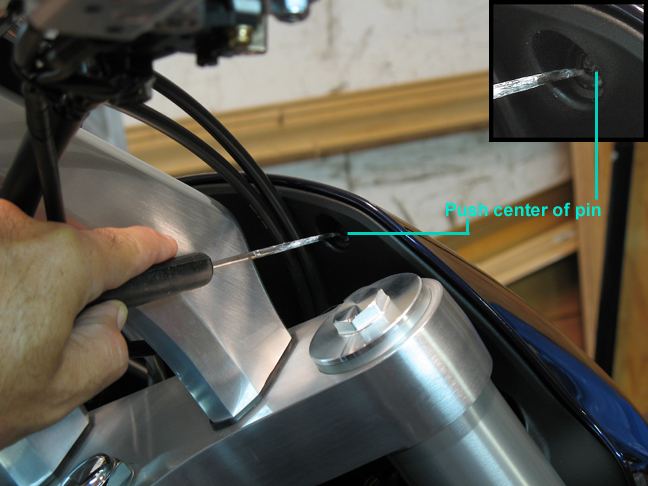 Pull the front fairing straight forward and disconnect the headlight harness by pulling the headlight plug.
Retrieve your push pins. The center pins will be, what else, pushed in.
Push the center pins out so they protrude past the head and set aside.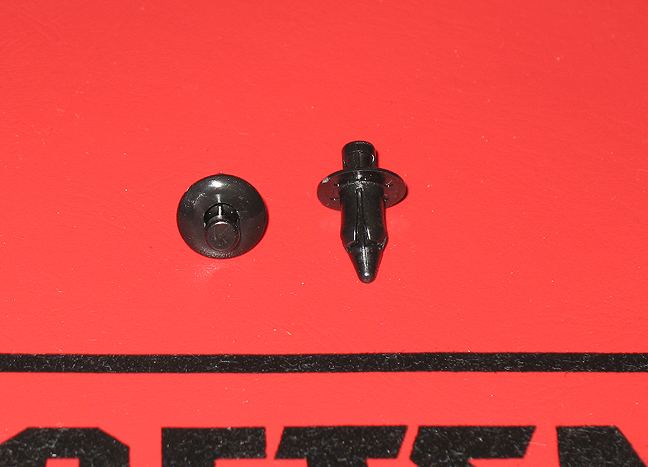 Remove master cylinder cap:
Place an absorbent towel over the tank to catch accidental spills (brake fluid destroys paint!). If you do not level your master cylinder, brake fluid
will
drool over your bike when you remove the master cylinder cap, so... leave the bike on the side stand and position the bars so that master cylinder is level to the ground. I was unable to level the master cylinder with the bike level on a jack.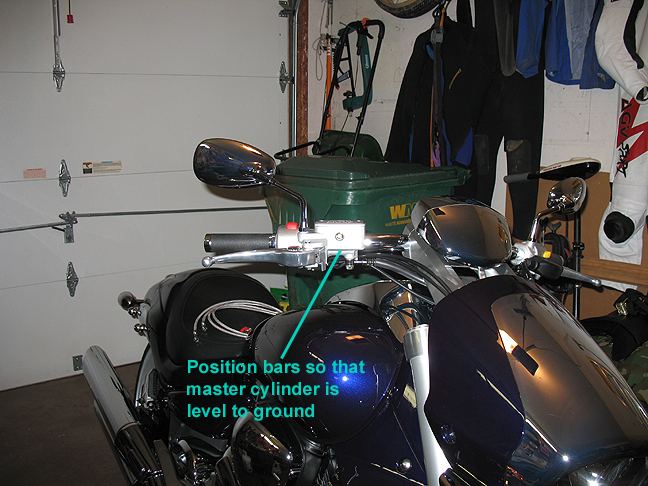 Loosen the two Phillips head screws and remove the master cylinder cap.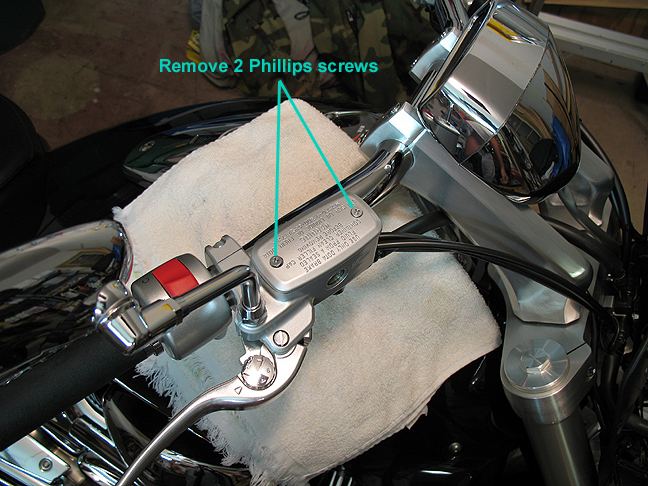 Remove the white plastic diaphragm plate.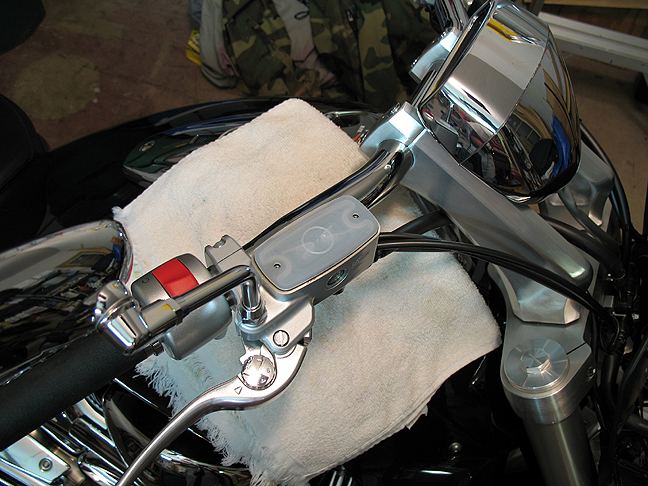 Remove the black rubber diaphragm.
If the black rubber diaphragm is malformed, compress/accordion it.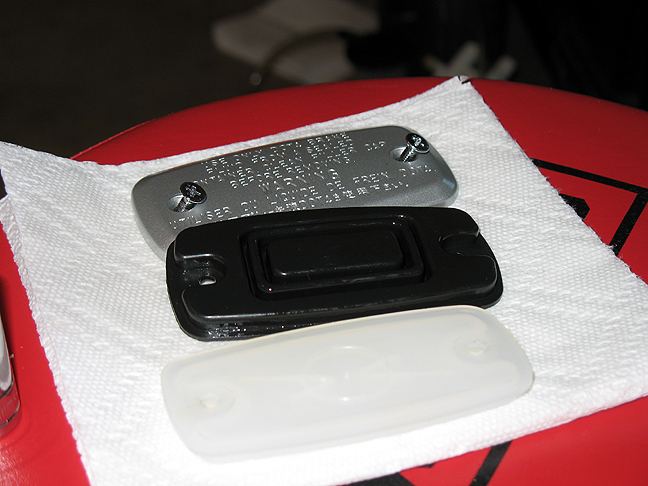 ...end part 1 of 3.