Discussion Starter
·
#1
·
Well, As of the 15th I'm now the proud owner of a Silver M109R (despite having been a nuisance on the board for almost 6 months 8) )
I picked it up from Moddrell's in Chickasha, OK if anyone is looking for one still.. They were trying to get me a red one, but there was only 1 in a 250 mile radius and the dealership that had it wouldn't let it go for anything. Still, its all good, silver was my first choice back when I started wanting one of these beasts anyway. :doorag: :doorag:
Put just over 400 miles on her today on the way back from Oklahoma, made more than a few Harley owners mad as I passed them. Got pulled over with < 150 miles on the bike and got off with only a warning cause I told the state trooper I wasn't entirely sure how far off the speedometer was from actual so I was just riding until the wind got too much (and it was a very windy day for most of the ride). He did however want a picture taken of himself on the bike (after he gave me the warning) which I thought was very kewl. :cop: :bigthumbsup:
Found a few good BBQ joints on the way and I believe I identified at least 7 new bug species from thier remains on my helmet visor :joke:
Although I wondered why they called this parking area the "Hawg Pen" as most of the bikes in it were NOT Harleys .. 8) Also as you can see from the cattle truck in the background, the meats at this places were FRESH!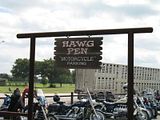 Took some pictures outside the hotel I stayed at the night I picked it up... By the end of tomorrow it won't look quite the same. The wrenches at the dealership, all of whom were very kewl and top notch, really got a kick out of the fact that the first thing I did was ask them to borrow some allen wrenches and a screwdriver so I could put in the JSD-3M
Really need to pull it off to see the difference now.
All you Austinites that want to get together for a ride shoot me a PM. I'm up for a ride tomorrow afternoon, Friday and / or Saturday, but I leave again on Sunday the 24th for a month... Hope the weather isn't all poopy by the time I get back!!
Ride Strong
! and a big thanks to everyone on this board that gave me the knowledge I needed to make an informed purchase! Much love for ya! :bigthumbsup: