Discussion Starter
·
#1
·
Gotta say I love this helmet! Way good bang for the buck! I especially like the dual visor setup for riding near dusk.. No need to stop to take off sunglasses, just flip the inner visor up.
Having said that, I gotta tell ya that the outer visor is made from some really soft plastic.. It scratches way easy... I'm already looking at replacing the outer visor at just > 1 week of ownership. I'm going to chock some of that up to the fact that the first 500 miles or so I was having to clean it with paper towels and water so I probably took off the scratch guard.. Should have thought to take some helmet cleaner with me to pick up the bike.. Live and learn.
If you're looking for a new helmet, this one won't disappoint.. but if you use rags and such to clean the face shield, you might want to think about buying an extra visor with it when you do.
For those interested, you can find the original link on this helmet here:
http://www.m109riders.com/forum/index.php?topic=4775.0
(use the second link from the topic starter, the first company doesn't sell them in the US)
Helmet pics for those that haven't seen it before: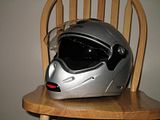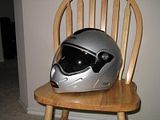 Also, in the original thread Bad109 asked how this helmet was on noise. It comes with a padded chin guard and an air damn that you can put in or leave out as you will. With it in this helmet is MUCH MUCH quieter than my HJC, CL-Max. Its only downside in this regard is that it does leave a wee bit to be desired in the ventilation department.. You will probably need to pop open the outer visor on really hot days to keep from roasting your melon. And as soon as you do, EVERYTHING gets louder! Pretty darn good sound deadening for a flip up! :bigthumbsup: :bigthumbsup:
Personally I love it and give it 4.5 stars, I knock off half a point just cause I know darn well there's a better helmet out there somewhere, just haven't seen it yet and likely can't afford it anyway 8)