Discussion Starter
·
#1
·
Here's a few shots of todays run to Llano for some very yummy BBQ!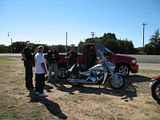 The first stop of the ride, in the background you can see Snake's Dads really sweet SVT Lightning F150
Those in the image from Left to Right are Midnight Hour, Foreground is Snakes dad Steve, background behind Steve is Michelle (Steve and Michelle were in the "safety vehicle"), Snake's friend Brian (Michelle's hubby) and Snake himself.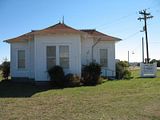 This is the little church where we stopped.. Did I say little? I meant TINY!
Everyone checkin out Midnights 9.. Really loud pipes, first time I'd heard these cobras.. way too loud.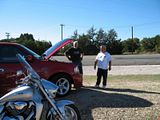 Snake's Dad Steve explaining to Midnight why he don't want to challenge the SVT 8)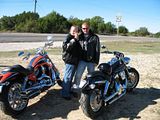 Brian and Michelle next to Steve's VTX which Brian was riding today. Brian is an NCO in the Army and will be departing for Iraq on Monday, please remember to keep him and Michelle in your prayers.
Brian at IHOP, popular place, the line was out the door and around the building.. We were the 30'th group on the list.. We left, figured we could be to LLano before we got a table here.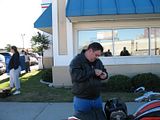 Snake playing with his PDA phone next to his V-Rod. Think he was trying to find out where everyone else was at.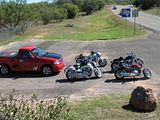 Scenic overlook parking lot, nice collection of hardware there don't ya think.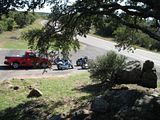 Forget about this picture.. did you see how that darn tree jumped into my way... freakin Ham! I swear it was a Texas Jumpin' Juniper!
And this would be the "Scene" that the "Scenic Overlook" overlooks.... yep.. cactus and mesquite.. must be Texas.
We couldn't find a nice big thermometer to prove it, but it was probably in the upper 70's for most of the ride.. Weather Buddy on my desktop is showing the temp at 77 degrees currently. Certainly were a LOT of bugs.. I'll be using a great deal of bug remover on my bike tomorrow morning!
Wish all you chilly peeps could be here to ride with us, really was a great time.. Snake will be adding his pics shortly!